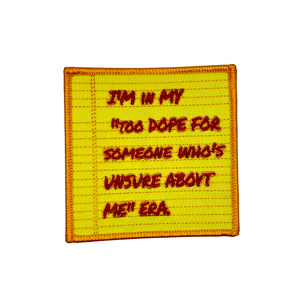 Introducing the "Unwavering Swagger" Patch – a symbol of self-confidence and undeniable charisma. This intricately designed patch features bold colors and dynamic lines, capturing the essence of being too dope for anyone uncertain about your greatness. Adorn your gear with this emblem, and let your unmistakable aura shine through. It's not just a patch; it's a statement of unapologetic self-assurance.
Patch measures at 3 in x 3in
Apply to your favorite hoodie, hat, tote, backpack, or jacket.
To do so remove from backing and apply with hot iron. If applying to clothing we suggest sewing stitches all the way around the patch to secure.